Lead Management Integrated Digital Marketing with CRM & Pre-admission Process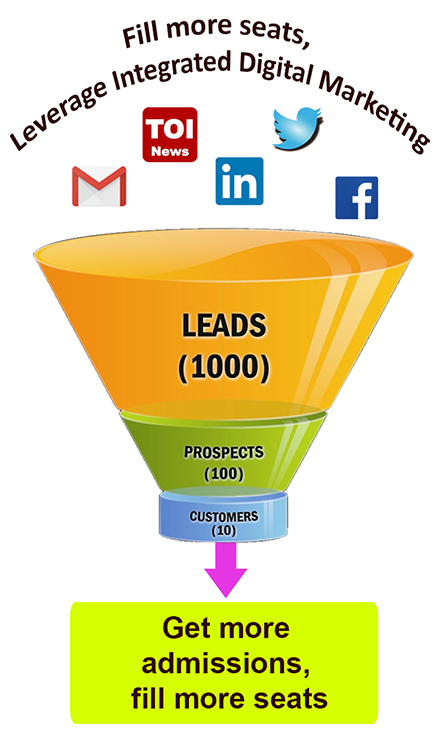 Lead Generation Digital Marketing Campaign
Adapted for Integration with digital Marketing Campaigns
Lead Conversion with CRM
Auto assigning of leads/enquiries to Counsellors on an instant and real-time basis(performance based assignment).
Multiple Counsellors can be created to receive and process leads that are auto-assigned
Regular tracking of counselling status through summary reports and mails to relevant dept heads
Lucid and yet exhaustive display of the lead stages and status to all concerned with timestamp on each stage to ensure timely closure of leads either way - effective lead
Optimising digital marketing Performance
Assessment of effectiveness of the digital marketing campaign & spends by attributing successful leads the corresponding media spends.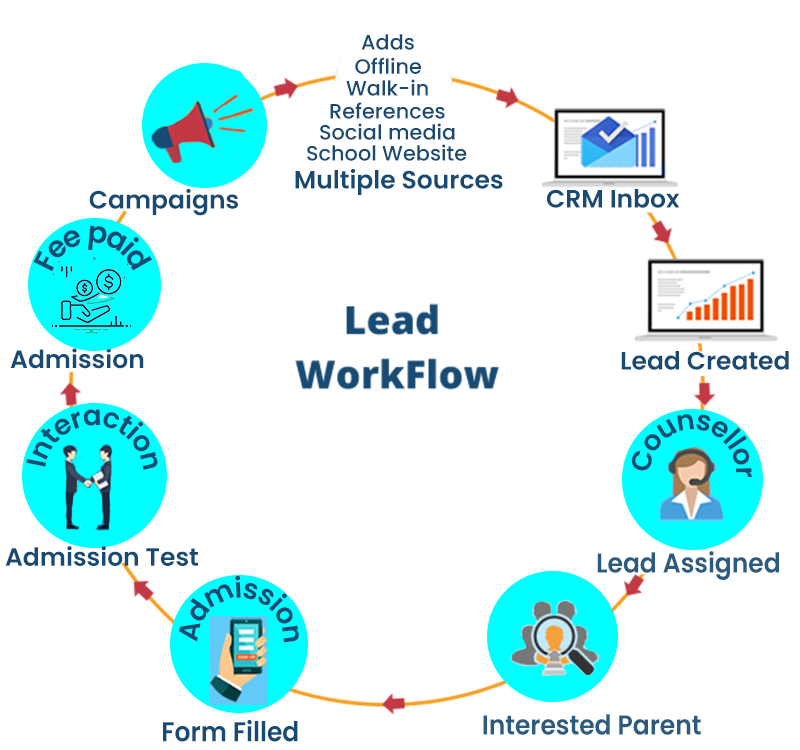 Overview Lead Management CRM
Create Custom Lead Links:
This feature empowers you to create the original links and post them on various social media channels, ad platforms. These links capture the leads and funnel them into your Leads repository.
Users can create unlimited links to cater to numerous marketing platforms and capture leads from offline sources.
Leads from multiple Sources:
Based on the lead links generated by the school and used on various social media platforms for advertising and capturing leads, a list of leads gets generated along with its essential attributes like source & time of capture etc. Leads are usually received from sources, Internal Social Media channels & Paid campaigns (with the help of digital marketing)
Internal Social Media channels include sources like
School Website.
School Facebook pages
School's Twitter handle
School's Instagram
Paid Campaigns usually run with the help of digital marketing agencies generate leads from sources like:
Google Ads
Facebook Ads
Just-dial ads
And Other Franchisees
Lower TAT between Lead generation & its Closure:
CRM allocates leads on a real-time basis allows counsellors to respond with the lowest TAT (crucial in achieving a high success rate).
Making Counsellors More Productive:
Counsellors get easy access to all the information and can set follow-up times & reminders & track each & every lead by its status.
Constant Connect with parents:
Parents receive autogenerated updates and can track the progress of their admissions progress. Parents receive a Progress chart, as shown in the image
All functionalities at fingertips:
Counsellors can do the following:
Send admission forms to parents after their enquiry (parents can click & fill)
Schedule Online admission tests integrated explicitly with the admissions for respective classes. (Ready to use admission tests for each class to aid admissions process)
Counsellor Performance measurement:
This module provides multiple reports that help you assess the counsellor's performance on various parameters. Overall leads received by each counsellor and their ultimate disposition.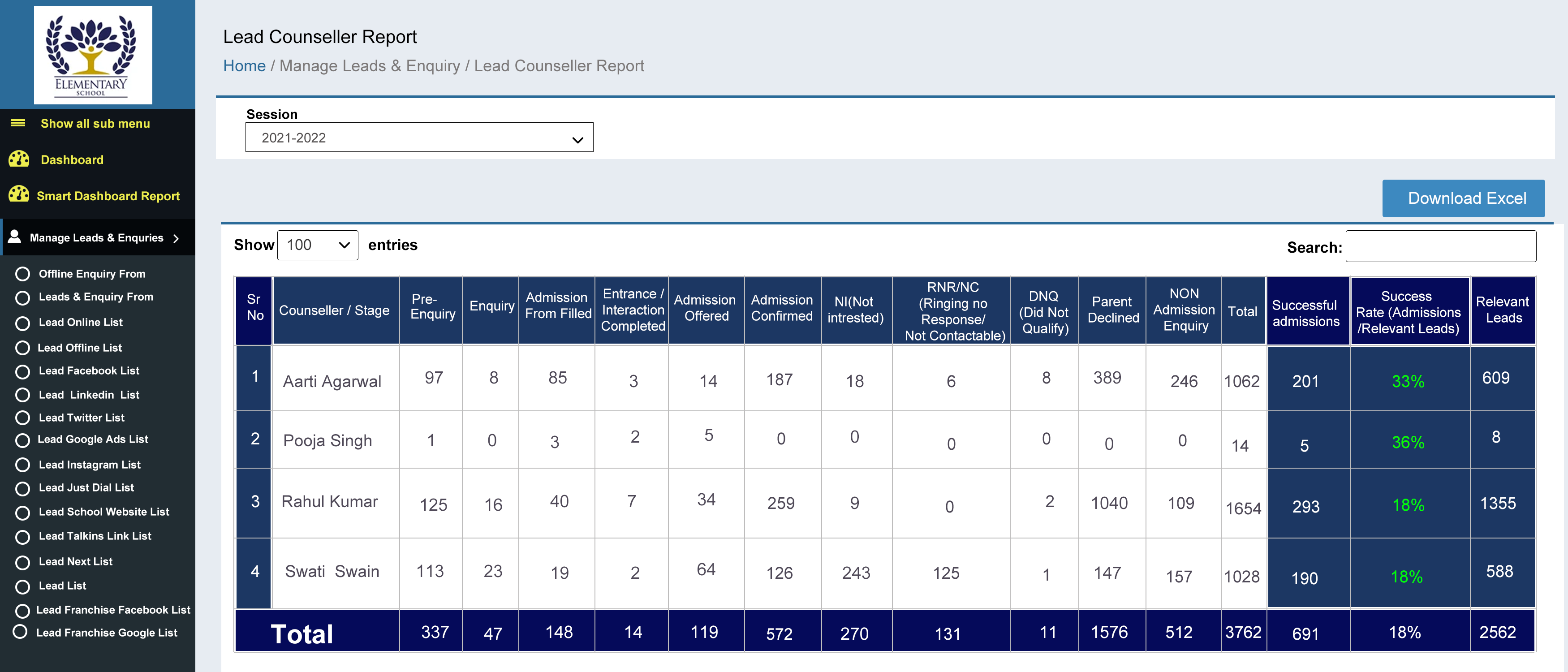 Creating Links to Generate Leads from Social Media:
Our platform allows you to create original links that can be posted on various social media channels and ad platforms.
These links capture leads and funnel them into your leads repository. With this feature, you can create unlimited links to cater to numerous marketing platforms.
Counsellor-specific Links:
Furthermore, schools can generate links that are specific to each counsellor. These signature links are unique to each counsellor and can be shared with parents that come through offline mediums like calling or walk-ins.
These links channel all the leads and consolidate them in the counsellor's dashboard and action panel, making it easy to manage leads.
Unified View of All Lead Sources:
Counsellors have a unified view of all the leads captured and the platform source where the lead originated.
This critical feature helps lead source attribution.
Lead Analytics to Evaluate ROI:
Our platform provides lead analytics that help evaluate the effectiveness of each lead source.
This includes KPI dashboards that are readily available for the convenience of the management.
With deep dive clicks on these dashboards, you can easily track lead source performance and measure ROI for your budget spent on digital marketing.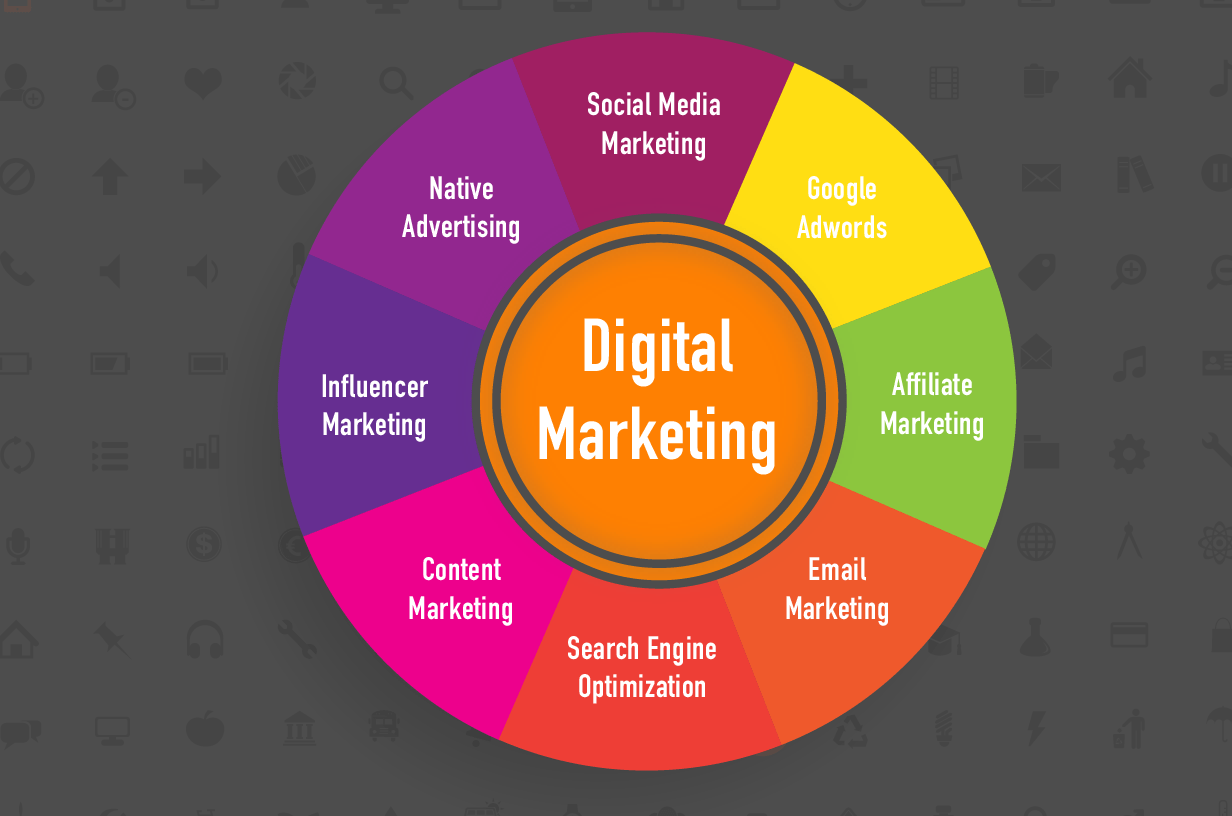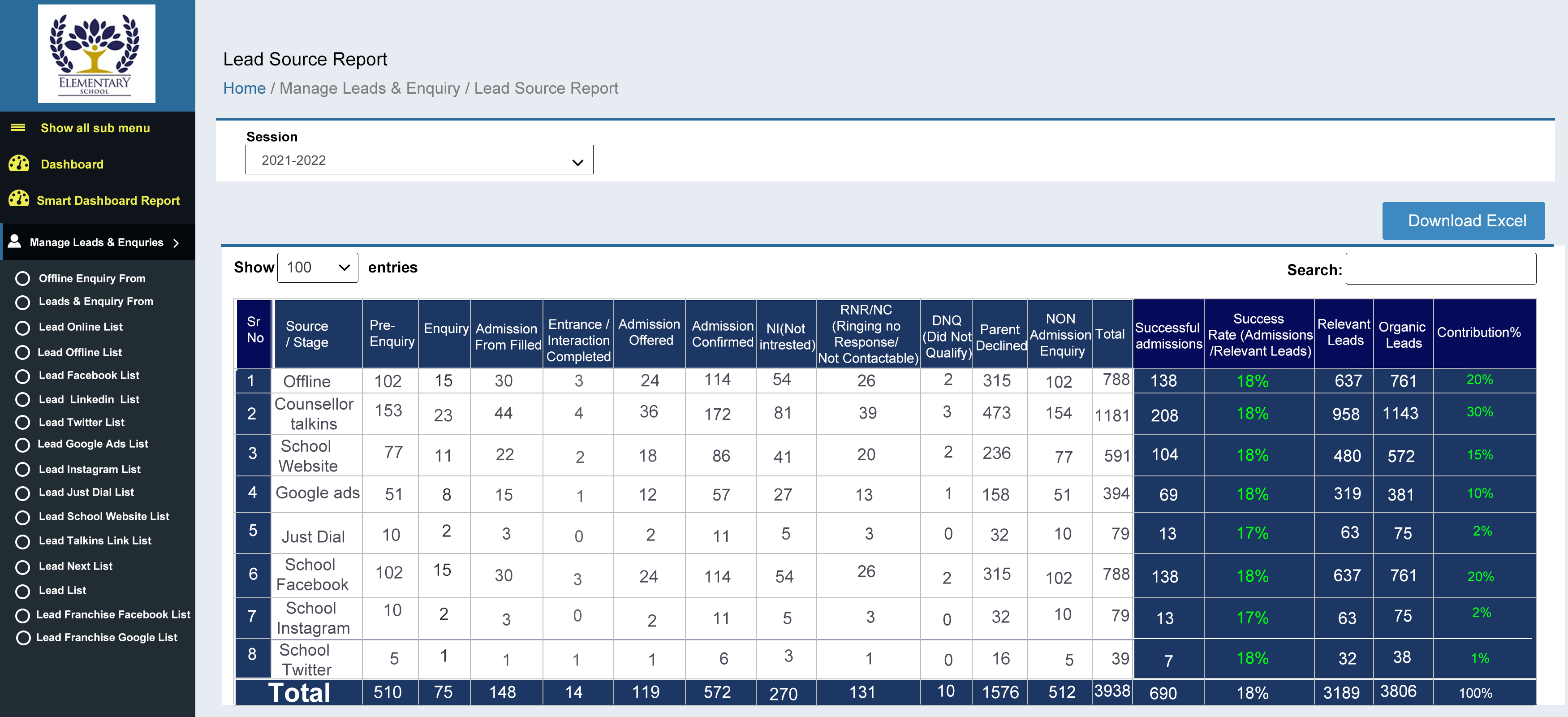 Calibration of Marketing spends on Digital marketing:
Successful leads can be attributed to their respective source, and the effectiveness of each source can be analyzed. Based on the success of each source, the advertising budget spends can be recalibrated to ensure maximum success and the highest possible ROI.
Pre-Admission Management
Our pre-admission module enables schools to accept both online and offline admission registration requests, and manage the applicants efficiently.
With this feature, schools can receive admission fees both online and offline, and schedule interviews and admission tests using an integrated communications platform.
Admit Card Generation
This feature enables schools to issue admit cards to applicants, which can be printed and used as ID cards for school access and identification at the entrance during entrance tests or interviews.
The admit cards contain all the necessary details, including the test or interview date, time, and venue, ensuring a smooth admission process.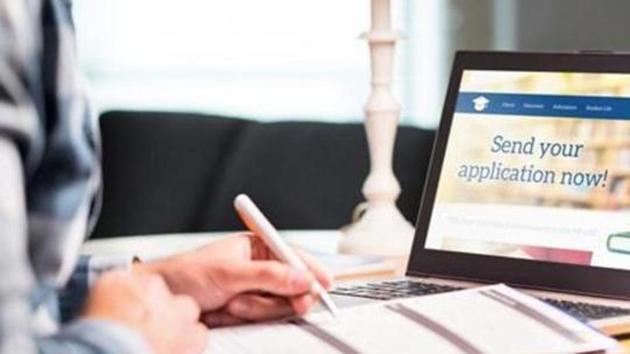 Integrated Fee Management for New admissions:
The successful leads dovetail seamlessly into the pre-admissions and hands over the process to the admissions department.
Either the Counsellor or the Admissions Clerk can carryout the essentials as below:
Assigning Fee Plans
Raising Fees Invoices to the parents
Enables Handling discounts as per policy
Enables seamless approvals from the authorities
Move candidate from Admissions list to Live class (Inbuilt functionalities to handle the multiple session complexities)
Approval Mail Received by the Princepal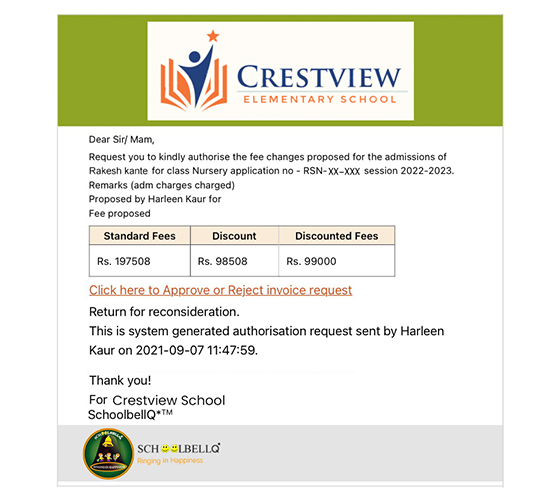 Invoice Concession approval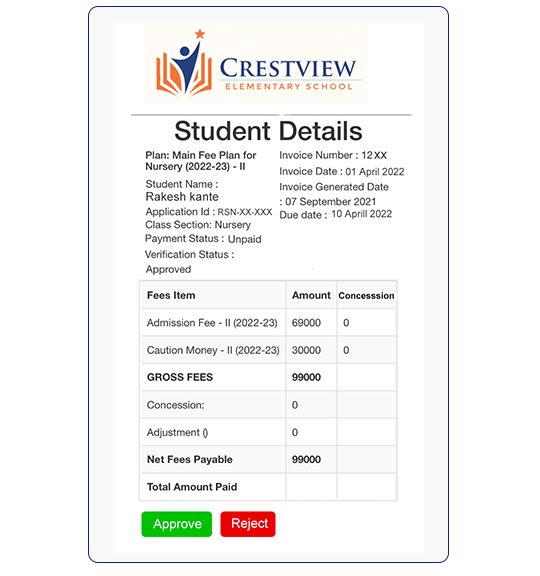 Invoice for parent to pay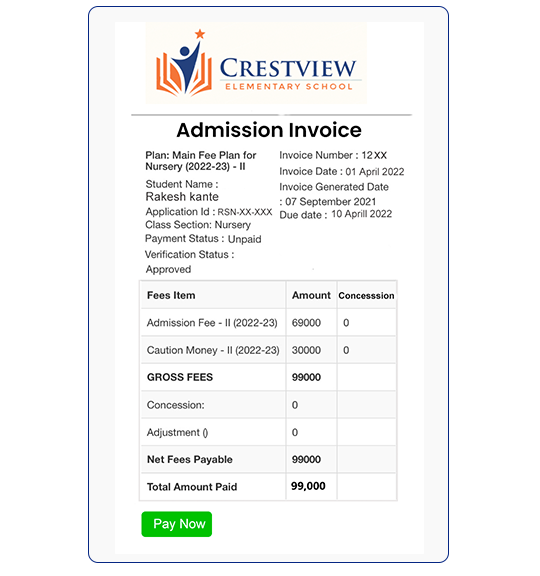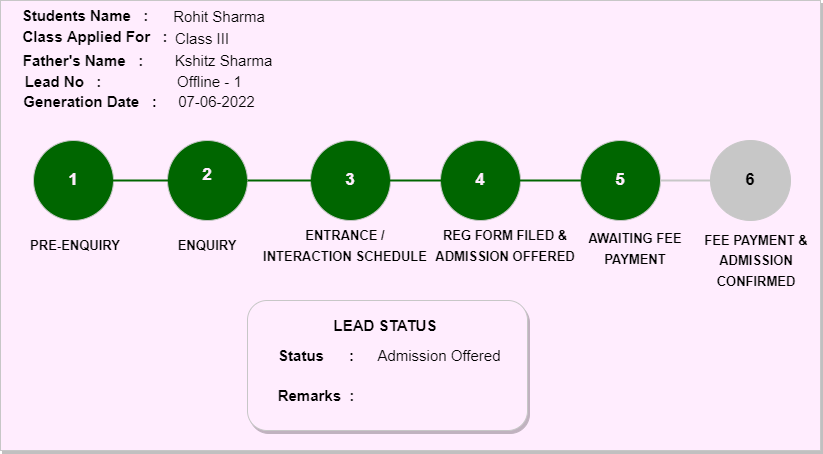 Enquiry and Prospectus Management
This module allows applicants to purchase admission prospectus both online and offline and get issued a receipt.
Automated Workflow for Admissions
The system is designed to handle the complete admissions process, regardless of the volume of applications.
The workflow is fully automated, and it can process both online and offline applications.
The system also includes a module for the sale of prospectuses, and fees can be collected online.
The admission process is integrated with the Entrance Exams and Admit Card module, which includes communication features such as assigning classes, sections, and fees plans, and issuing receipts at the Pre-admissions stage.
Online Test Result Publication
Our comprehensive module enables schools to manage test result publication online.
After the exam, parents are informed of the publication and can access it through a link.
To authenticate themselves, they are required to enter an OTP sent to their registered mobile numbers.
Admission of Successful Candidates
With the help of our module, the successful students who apply online and offline can be seamlessly moved into the academic sessions.
Schools can conveniently assign suitable fee plans for them.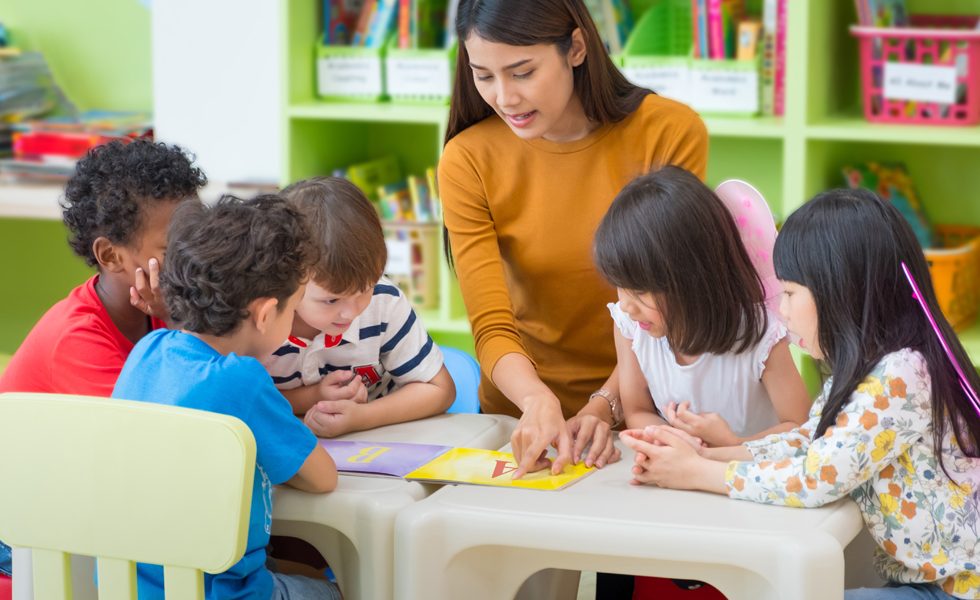 Ready to use tests available for online admissions:
Online admission tests are integrated as part of the Pre-admissions workflow.
The school can choose from the repository of tests already available in the system at no extra cost.
Ability to customise tests (each class)
It is integrated as part of the Pre-admissions workflow within Lead Management CRM, admissions process wherever school requires.
All features of Online Tests can be used as below:
Online proctoring
Varied question formats, including text-based answers or image-based response
Auto-evaluation for objective part
Manual Evaluation for subjective responses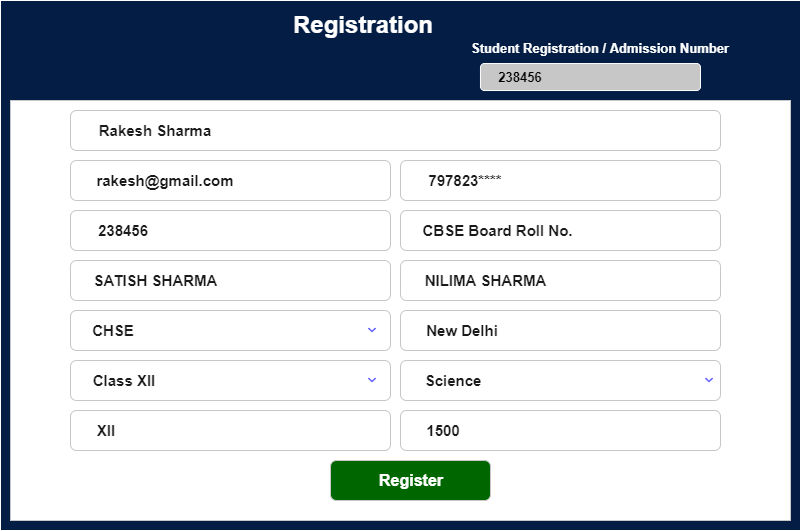 Vacancy Management for admissions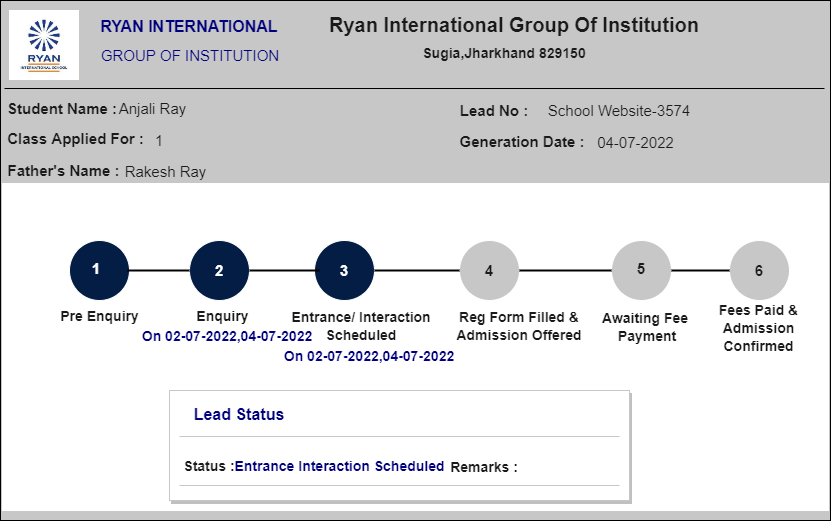 This particular module helps schools manage vacancies for the schools with higher demand & face the problem of plenty. This module enables tracking the ongoing admissions count against the allocated vacancy (calculated as Vacancy= Class Capacity determined by the school - (Current student count + Confirmed New admissions)).
The counsellors get real-time alerts when the prospects for admissions exceed the vacancy.
Most importantly, it allows the schools to follow cum first serve principle, especially where school seats are scarce